Choosing Kitchen Appliances
With so many available style, feature, quality and technology options, selecting the best appliances for your new or remodeled kitchen can be overwhelming, even if you're working with a design or building professional. Creating a design plan and conducting informed appliance research before you start shopping can ensure that you create a stylish, functional kitchen for your family and lifestyle while remaining on budget.
START WITH A PLAN
Evaluating your needs and goals for your new kitchen in several key areas will help you create a realistic appliance-purchasing strategy.
LAYOUT AND BUDGET
Whether you're working with an existing kitchen layout for which you need replacement appliances, remodeling to change your current design or creating your dream kitchen as part of a new construction project, the layout of your kitchen dictates a lot about the appliances you'll need to purchase. Be sure to consider how you use your kitchen and the flow and traffic patterns it creates with adjoining rooms, as well as any architectural or structural constraints. Take a look at Common Kitchen Layouts for tips and insights on space planning — the layout you choose can either enhance or limit the types and sizes of appliances that can be accommodated. And be aware that you may have to make some compromises.
The budget you establish for your new kitchen will greatly influence the appliances you select, so it needs to be realistic for the size and scope of your project. And, as you choose appliances, be sure you or your trade professional prioritizes this established budget and function over aesthetics. For example, commercial-style appliances that are not correctly proportioned for your kitchen layout may offer the look you want but end up requiring budget-straining structural modifications that you didn't anticipate.
FUNCTION AND LIFESTYLE
When planning for your new kitchen, you'll also want to take into consideration your family's lifestyle and design it around the way you live and entertain. Be sure to make notes on not only how you currently use your kitchen but also how you might like to use it in the future. If you like to entertain, consider adding specialty appliances like a warming drawer or ice maker or installing a larger capacity oven. And busy families might want to add a speedcooking oven to save time. Drafting a comprehensive wish list will make it easier to match your needs and wants with appliance features once you start shopping.
Whether on your own or with a design professional, try to visit retailers or showrooms for product demonstrations — there's no substitute for actually using the appliances to determine if they will be a good fit for you ergonomically or for the layout of your kitchen. For example, you may want to consider a range or oven with larger time and temperature displays, depending on the size of your kitchen. Or you may find that certain knobs, buttons and other tactical features offer greater accessibility. You can locate retailers through the manufacturers' web sites or by using Find A Showroom. If you're not near a retailer, your wish list will still be helpful in narrowing your search based on the features and specifications on the manufacturers' web sites.
STYLE AND FINISHES
Once you've established your appliance budget and functional requirements, you can further narrow your choices by selecting the style and finishes that complement your kitchen design. In today's luxury kitchens,stainless steel is the most popular finish option — in addition to being long-lasting and durable, stainless steel's sleek surface is also easy to clean. Another luxury trend is integrating appliances with cabinetry using custom panels. This involves having panels custom made by a cabinet maker according to the manufacturer's specifications.
One advantage of higher-end appliances is that they are often designed with classic lines that coordinate with a variety of kitchen styles. At Monogram, we also offer a further distinction between chef-inspired Professional style and sleek European-style products.
When selecting appliances, you'll also want to consider how their handles, knobs, touchscreens or illumination add to the overall look you want. If you're struggling with any of these choices, try creating a mood board that integrates all the finishes you're considering to help you visualize how they all work together.
BUY SMART
When you buy appliances, choose your retailer wisely. The sales representative you work with should be familiar with all the unique product features across multiple brands to aid you in your selection. Plus, retailers can often help with any complicated installation requirements unique to your kitchen design.
Also, knowing when and where to buy can benefit your budget — in the Canadian retail market, for example, deep discounts can often be had as part of seasonal sales and promotions oriented around major holidays. And promotions and rebates are often available through the manufacturers' web sites, with local dealers offering additional discounts as well.
CHOOSE THE BEST APPLIANCES
Once you have established a budget and created a vision for your new kitchen, you'll need to research specific appliances, considering the brands and differentiating factors in each category to choose the appliances with the features, performance and style that best meet your needs.
Also be sure to consider Energy Star-rated appliances to increase home energy efficiency and savings while reducing impact on the environment. For tips on selecting and positioning your appliances for better energy efficiency, see our article on the Energy Efficient Kitchen.
Range or Cooktop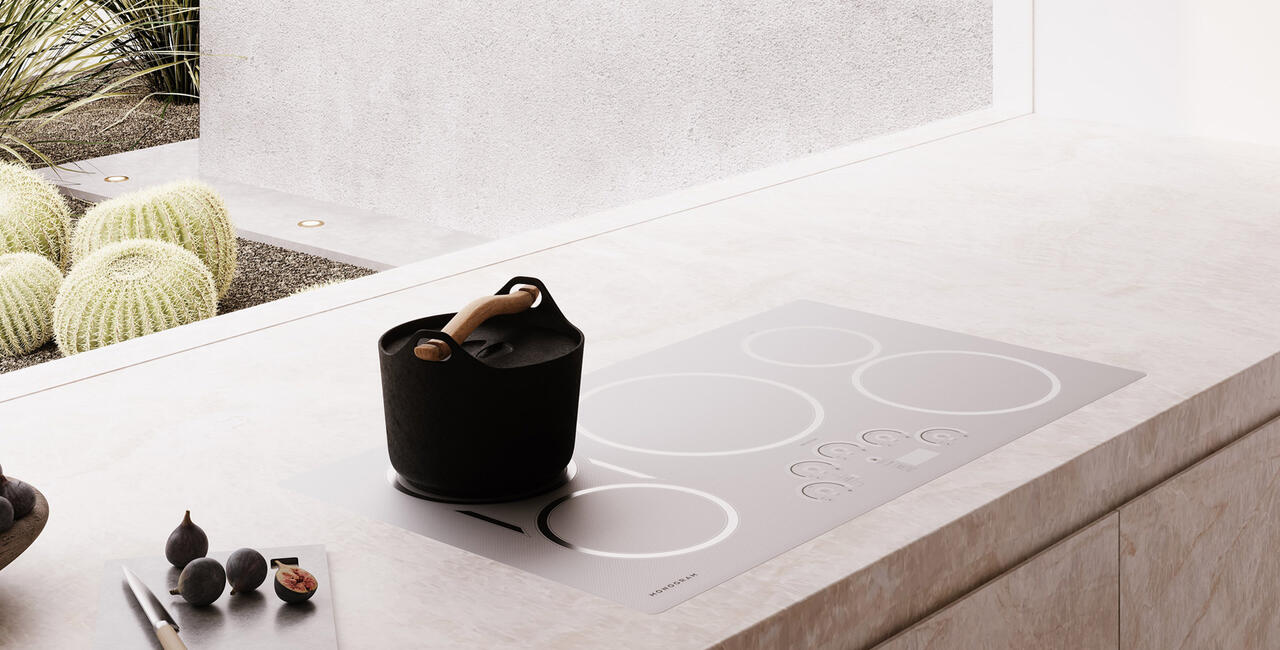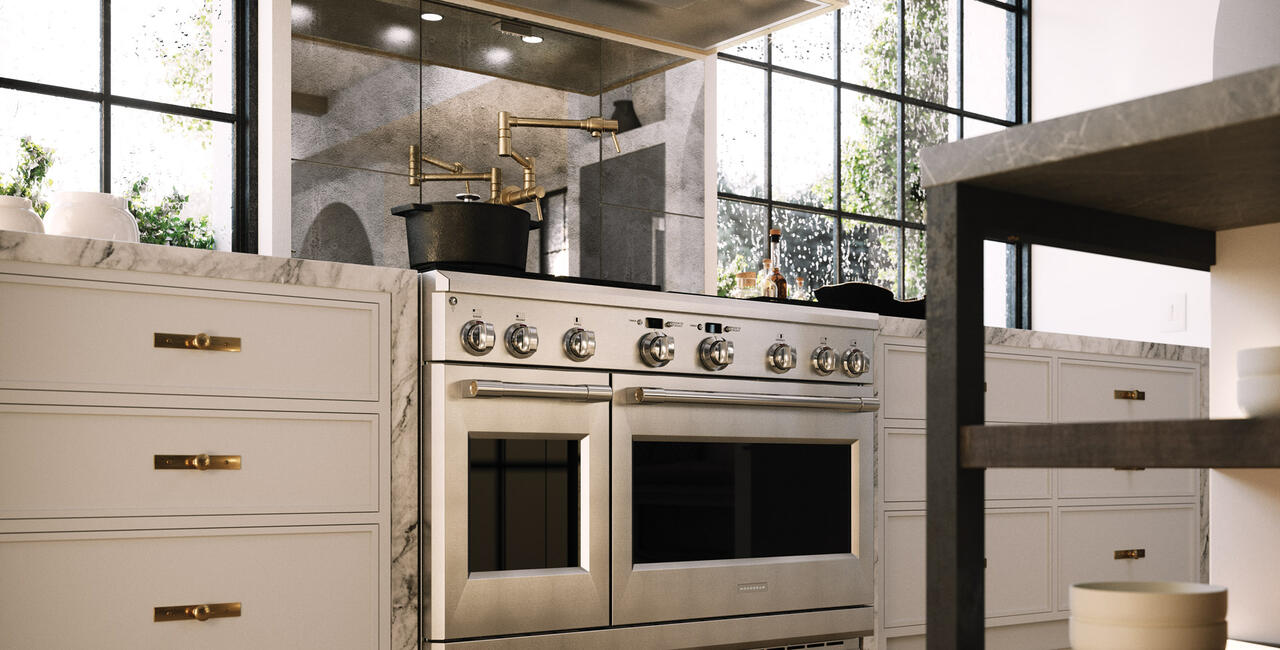 One of the biggest decisions you'll make in designing your kitchen is whether you prefer a separate cooktop and wall oven(s) combination or a free-standing range, which integrates the cooktop surface and oven in one appliance. There are advantages and benefits to both options, based on how you use your kitchen. For instance, if you tend to cook dishes that start on the burner but are finished in the oven, you might prefer the proximity that a range offers. And free-standing ranges are often more economical and easier to install. But if you have multiple cooks sharing one ample space, the separate zones offered by a cooktop and a wall oven might serve you better. However, your choice may be dictated ultimately by the layout or space constraints of your kitchen — an open kitchen with little wall space or a small kitchen may not be able to accommodate a separate wall oven.
Whether you opt for a range or a cooktop, you'll need to start by choosing the fuel source. Ranges are available in gas, electric, or dual-fuel configurations. Gas ranges offer iron burner grates and front-facing controls. Dual fuel is popular because it provides even electric heat in the oven together with easily controllable, precise gas burners on the cooktop. You'll also need to select the right size range for your kitchen layout. Standard range widths are 30, 36 and 48 inches. Larger, professional-size ranges (36 and 48 inches) often include ways to customize the cooking surface, such as additional burners or an optional built-in grill or griddle.
For cooktops, the fuel source choices are gas, electric radiant or induction, with similar choices in sizes, configurations of burners and customizable accessories as are available in ranges. Both electric radiant and induction cooktops provide a modern, seamless look, including optional flush installation, and are easier to clean than gas cooktops. Induction is the most energy-efficient choice, quickly transferring electromagnetic energy directly to pans, which brings them to temperature far faster than any other method. However, be aware that with induction cooktops, you must use cookware that contains a high content of ferrous metal because the heat is only transferred by magnetic interaction between the pan and the coils.
Wall Ovens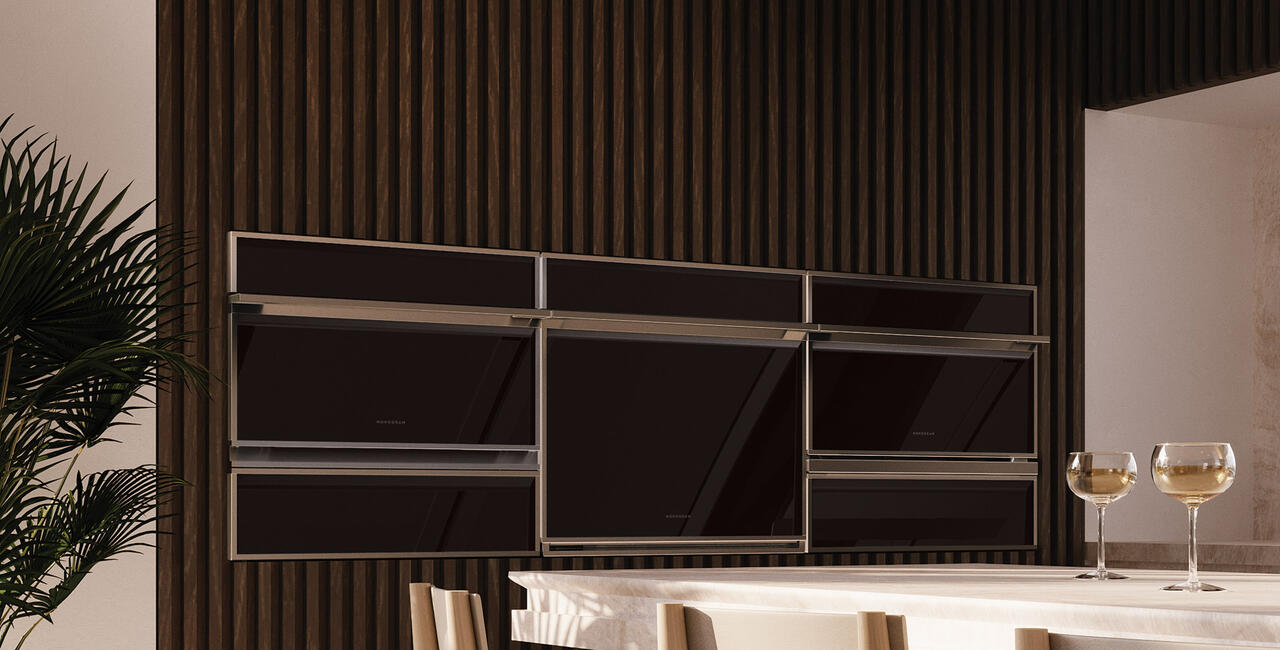 If you've opted for a wall oven, the amount of baking, broiling or roasting you normally do may affect what features you choose. Ovens come in standard sizes of 27 and 30 inches and are available in either a single- or double-oven configuration. Double ovens are ideal for cooks who entertain or have large families, if your kitchen size and layout can accommodate them. And while wall ovens don't allow for custom panel fronts, they may be installed under the counter or flush within the cabinetry for a more integrated look.
Another oven feature to consider is convection, which uses a fan to distribute the air in the oven clockwise and counter-clockwise for even cooking with minimum hotspots in less time than a traditional oven. With convection, you can also cook multiple items at the same time, a plus for those who love to bake batches of cookies. Plus, the reduced cooking time of convection can translate into household energy savings.
Speedcooking Ovens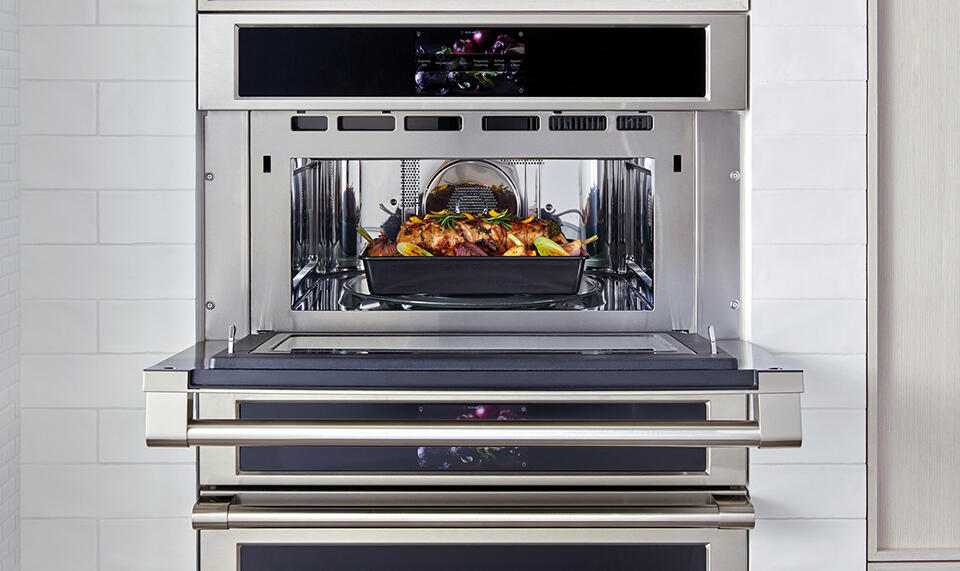 A speedcooking oven, like our Advantium, is a hybrid convection and microwave oven. The Advantium uses high-intensity halogen light with ceramic and radiant cooking elements to cook the outside of foods rapidly together with microwave energy to cook the inside evenly. Speedcooking ovens are ideal for accommodating busy lifestyles and can be a great alternative for the cook that wants the functionality of a double oven configuration in a smaller kitchen space. If you do upgrade to a speedcooking oven, be sure to purchase the appliance with the correct voltage for your selected location, as both 240V and 120V versions are available.
Ventilation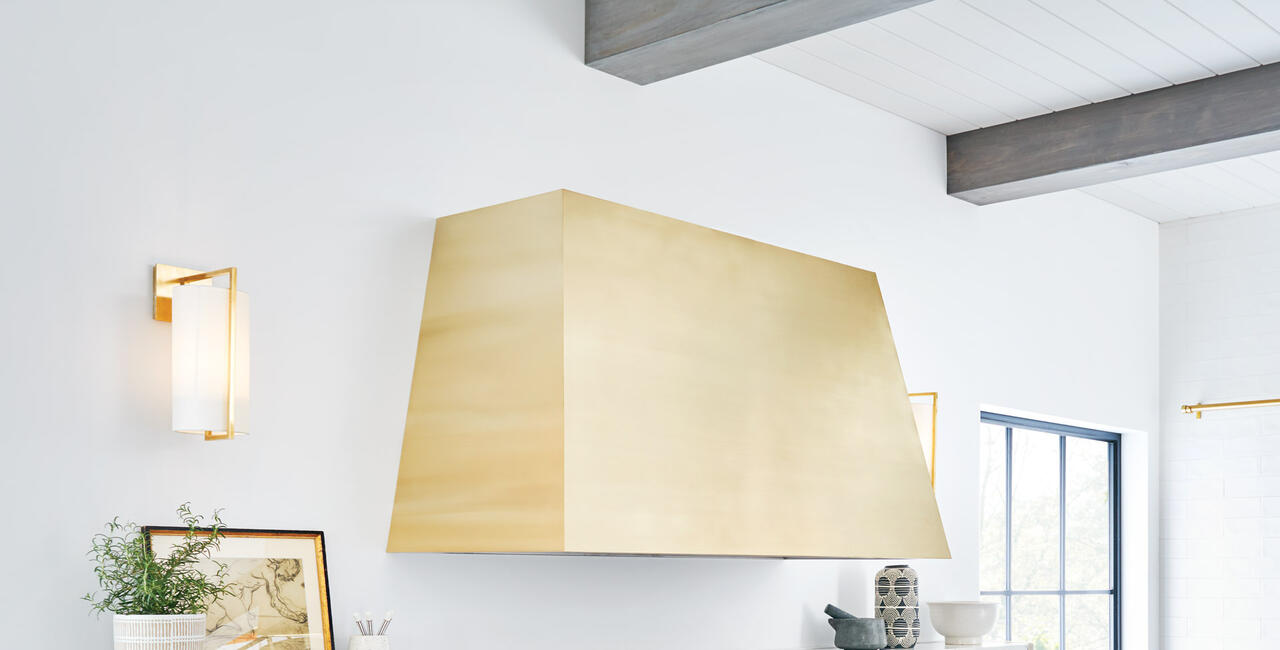 Whether via a wall-mounted hood, island hood or downdraft ventilation system, proper ventilation not only removes steam, heat and odors from your kitchen but also keeps your cabinets and appliances clean and grease-free. One of the most important features to look for in a ventilation system is the fan's ability to move air, measured in cubic feet per minute (CFM). For the best venting, the recommended rate is 1 CFM per 100 BTUs of the heat output of your range or cooktop. For example, if your total cooktop output is 60,000 BTUs, you should consider a hood with an air flow rate of 600 CFM. Also, be sure to look at other hood features like lighting, warming lamps and utensil racks that can increase its functionality in your kitchen.
Another important consideration for ventilation is ducting. If the layout and location of your kitchen in your home permits it, ducting your ventilation system to the outside will remove the maximum amount of heat and odor. Otherwise, opt for a duct-free or recirculating ventilation hood, which relies more heavily on filtration for odor control.
Refrigerators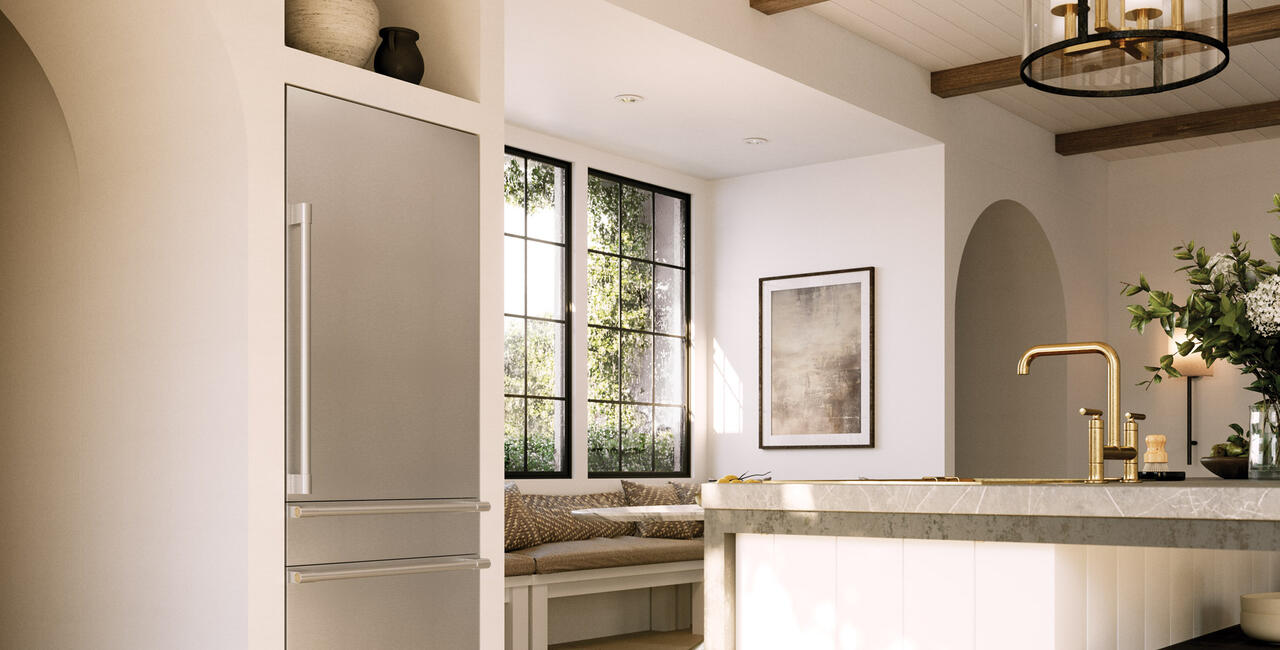 When choosing a refrigerator for your kitchen project, first select one of the three installation types:
Freestanding: Freestanding refrigerators may be viewed from a variety of angles, often have large capacity and are easy to relocate should your design change. When installed, however, they are not flush with kitchen countertops.
Built-in: Built-in units are usually taller than freestanding ones but fit flush with your countertop depth for a seamless look.
Columns or Fully Integrated: These units blend so seamlessly into your design that it can be difficult to distinguish them from the rest of the kitchen cabinetry.
All three options are available in a variety of sizes and capacities to meet your family's individual food storage needs.
Once you've decided on an installation type, you'll need to consider the refrigerator's configuration. French door models with a bottom freezer as well as popular side-by-side models require less door swing space and provide easier access to the freezer for children than a traditional top-freezer model. For extra capacity, large families may also want to consider a larger refrigerator and freezer combination or upgrading to an all-freezer next to an all-refrigerator, if the kitchen space and layout can accommodate them.
Supplemental Under Counter Refrigeration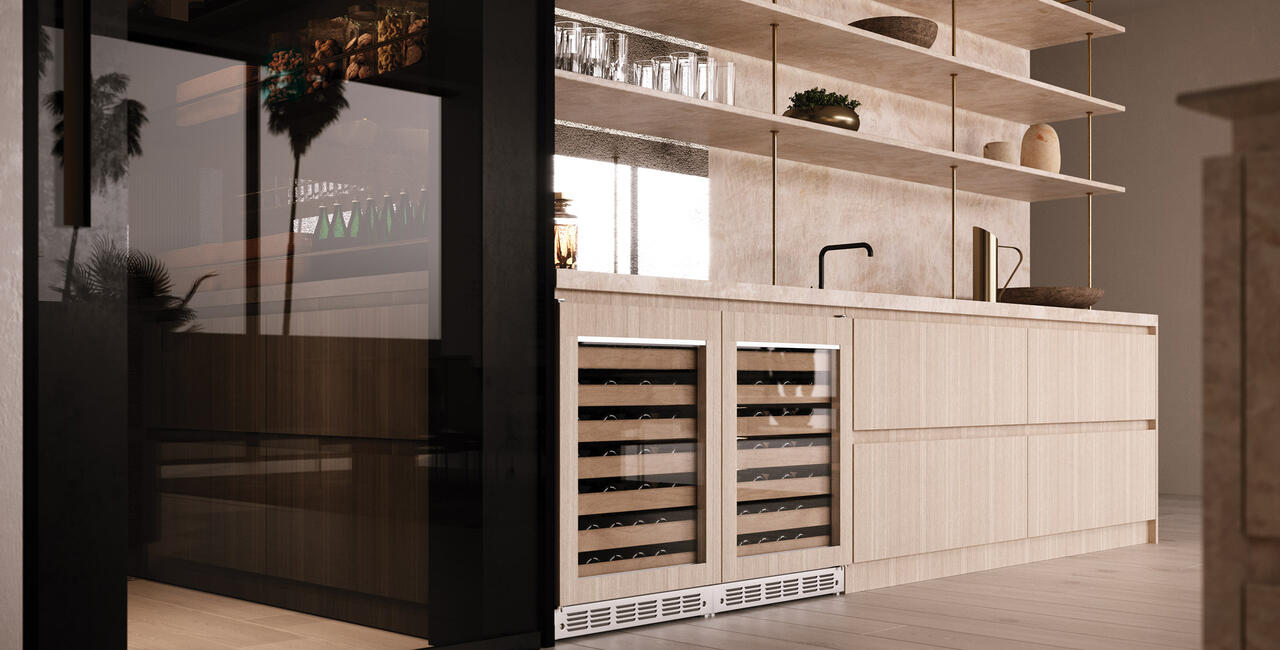 If you often entertain, consider supplementing your regular refrigeration with additional under-counter options:
Refrigeration Drawers: Including a separate under-counter refrigeration drawer in your kitchen design allows you to expand the capacity of your refrigerator in whatever area of the kitchen you need it the most.
Beverage Centers and Wine Chillers: These units not only free up space in your refrigerator for platters and dishes but can also keep all your beverages chilled to their optimal serving temperature, whether it's an award-winning Pinot Gris or sodas for the family.
Ice Makers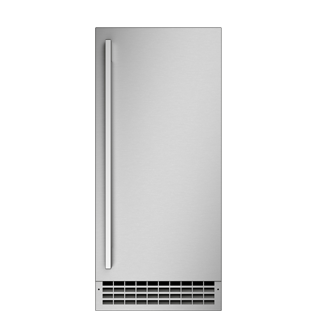 Frequent entertainers also love the convenience of a dedicated ice maker. When choosing an ice maker, start by selecting the type of ice it produces — nugget or gourmet clear, which can make a difference in many cocktails and specialty drinks. And be sure that the ice production and storage amounts match your family's needs.
DISHWASHERS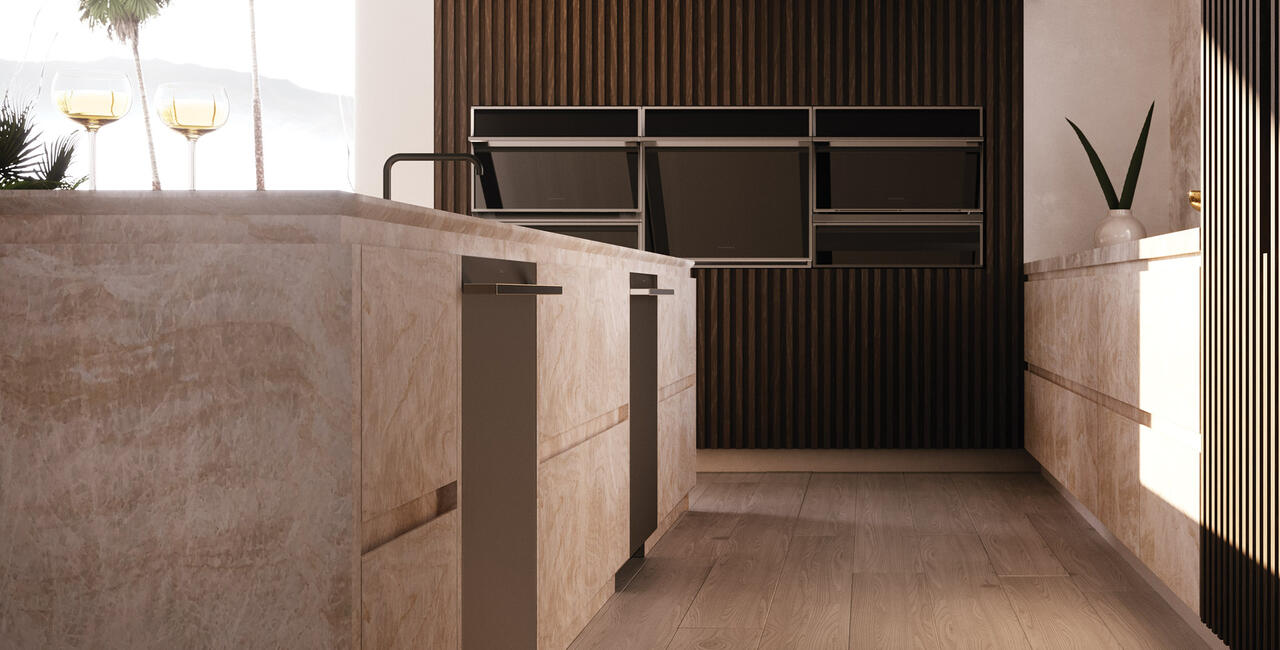 In selecting a dishwasher, start with styling; choose a finish that coordinates with the rest of your new appliances. And while most dishwashers are installed flush with kitchen countertops, integrated dishwashers matched to your cabinetry using custom panels are a growing design trend. Next, compare cleaning features. Look for dishwashers with a variety of cycles and options that complement your cleaning habits. For example, if your family runs frequent wash cycles, shop for models that offer varying capacity- or soil-level options. And entertainers might consider those with stemware holders or cycles for fine china. Plus, you'll want to compare the number of jets and types of racks based on the kinds of dishes you'll be cleaning.
One of the most important features to consider is how loud the dishwasher is while running. Dishwasher noise levels are rated in decibels; the lower the decibel rating, the quieter the dishwasher will be. Look for a rating of 45 decibels or less for the most quiet performers.
Dishwashers are most commonly available in a standard 24-inch width, as well as a smaller 18-inch width, ideal for very small spaces or as a second dishwasher for a wet bar.
And eco-conscious consumers should consider a dishwasher's energy consumption and water usage. Shop for a model that is Energy Star-qualified for not only superior energy efficiency but also to reduce environmental impact.
DESIGN FOR SUCCESS
Investing some time before you shop to determine your needs, create a design plan and research appliance features can ensure that your new construction or remodeling project ends up as the kitchen of your dreams.