Common Kitchen Elements
Design A Kitchen Layout That Works For Your Lifestyle.
The layout and features of your kitchen, more than its colours or finishes, maximize its efficiency and your enjoyment of it. Our guide to kitchen layout design can help you choose what will be best for your new kitchen — or optimize the layout you already have.
Design For Use
TRADITIONAL: THE WORK TRIANGLE
In any kitchen layout, most tasks are performed using the cooktop, sink and refrigerator. The traditional way to position them is in a triangular shape, called the "work triangle", that makes them easier for the cook to access efficiently and ergonomically. If you use your kitchen almost exclusively for cooking, consider positioning your appliances so that if you draw an imaginary line from the sink to the cooktop to the refrigerator and back to the sink, that line forms an efficient work triangle.
TRENDING: WORK ZONES
At Monogram, we know that the kitchen has increasingly become the heart of the home, the place where many more activities happen than just cooking. Given the larger and more open nature of modern kitchens and their position as the hub of the household, a new trend in kitchen design is work zones. An evolution of the work triangle, work zones still consider the triangle tasks of cooking (cooktop), cleaning (sink) and storage (refrigerator) but go beyond appliance position to create efficient and functional centers for all kitchen activities. Here are some tips for creating work zones in your new kitchen design:
Storage Zone: Position dry food storage close to the refrigerator, which makes unloading and organizing groceries a breeze.
Cleaning Zone: Cleaning up is most efficient if the dishwasher, recycling bins, cabinets for dishes and glassware and cutlery drawers are all located near the sink.
Cooking Zone: Include prep surfaces on either side of the cooktop and store pots and pans within easy reach.
Socializing and Entertaining Zone: If space permits, include a dedicated seating area for eating, computer use, entertaining and socializing.
Choose A Layout
Based on the architecture of your home, choose from among these five common kitchen layout designs.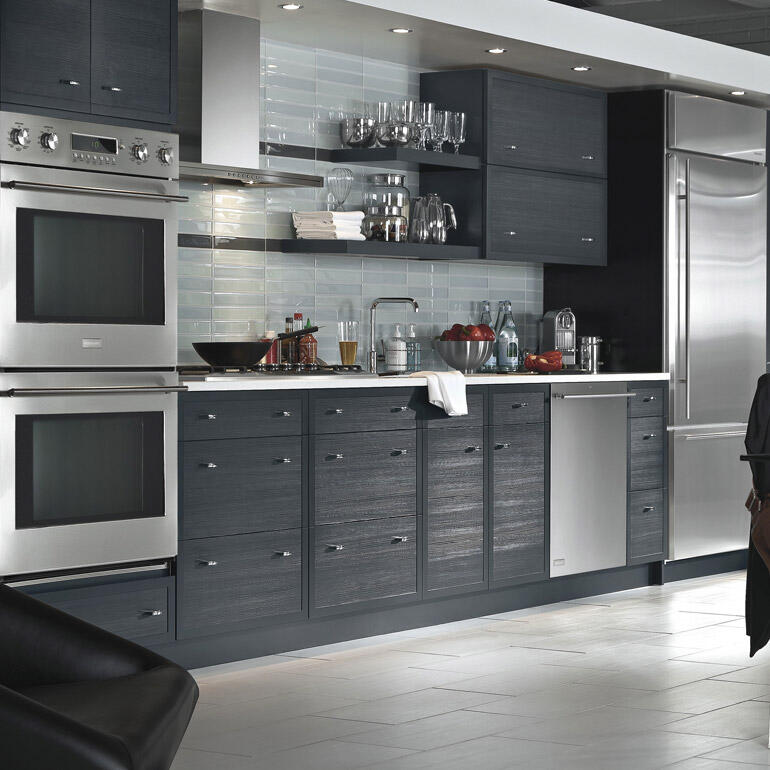 ONE-WALL OR SINGLE WALL
One-wall kitchens offer the most open layout, commonly found in lofts or smaller homes. Having all your appliances, workspace and storage along one long expanse, with the sink centrally located, makes cooking and cleanup easy and efficient. To maximize usable workspace, consider including a freestanding table or island in the design as well.
Best for: Small or open spaces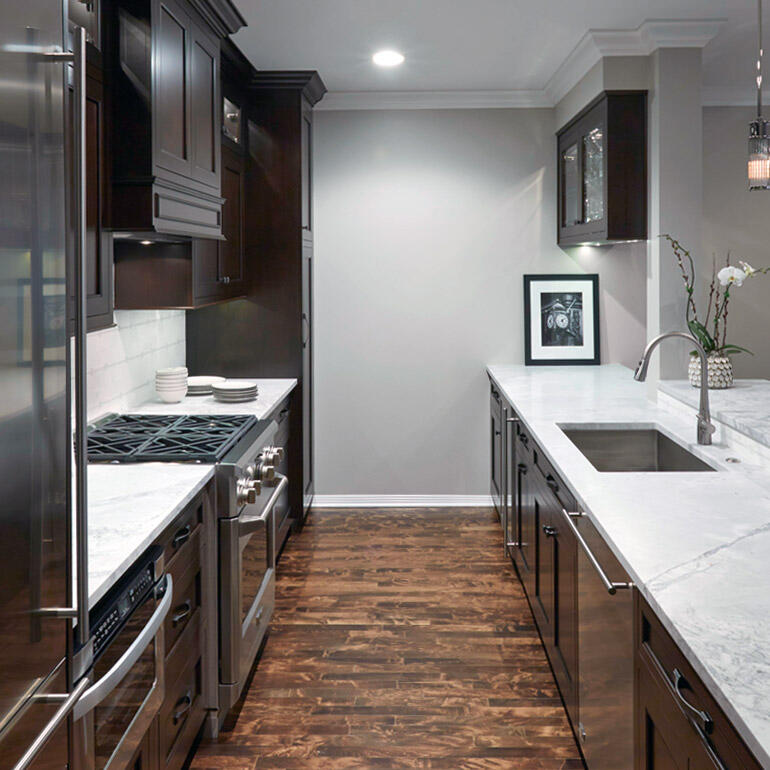 GALLEY
Long and narrow like a restaurant kitchen, galley kitchens are extremely efficient spaces for cooking, with everything you need within easy reach. But bear in mind that galley kitchens are generally not conducive to accommodating more than one cook at a time or socializing with guests.
Best for: Efficient cooking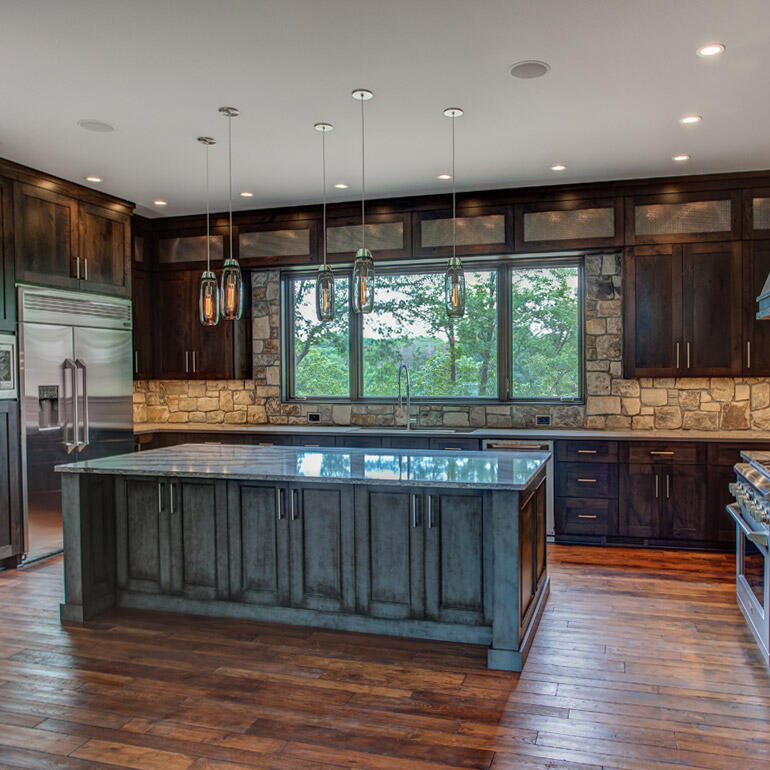 U-SHAPED
A U-shaped kitchen is essentially a wide galley kitchen open only on one side. As with galley kitchens, this compact layout is great for one cook but may also limit that cook's ability to socialize. If this layout feels too closed in, consider opening up one wall of the U with a pass-through to an adjoining room or deleting the upper cabinets entirely to create an open peninsula. If removing walls isn't an option, add a small island for both additional work space and storage.
Best for: One cook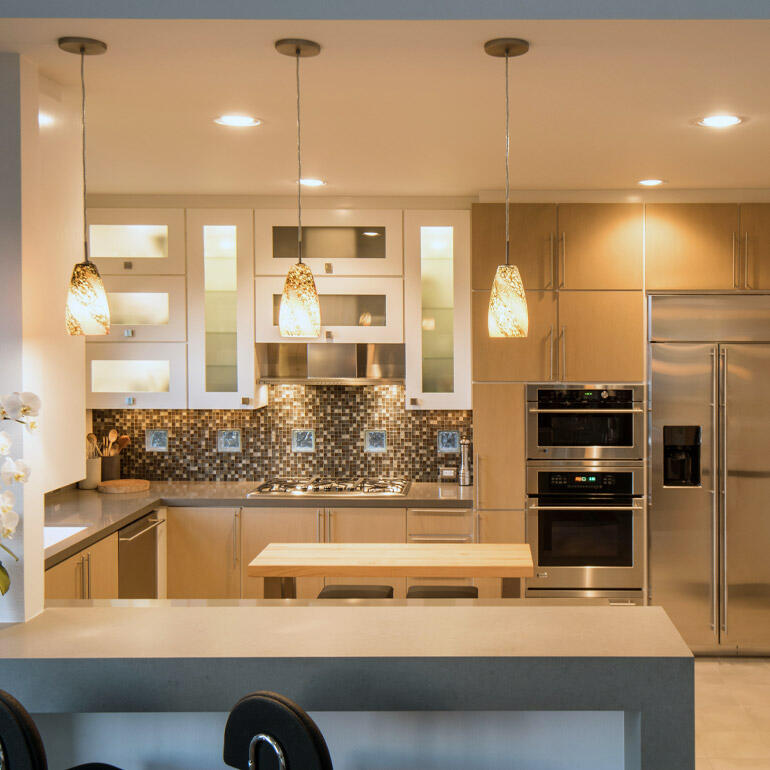 G-SHAPED
Adding a peninsula leg to a U-shaped layout creates a G-shaped kitchen, which maximizes smaller-space efficiency while creating additional space for more than one cook. The peninsula also offers more prep surface and storage and, with stools, seating for casual dining, socializing and entertaining.
Best for: Maximizing a small space for multiple cooks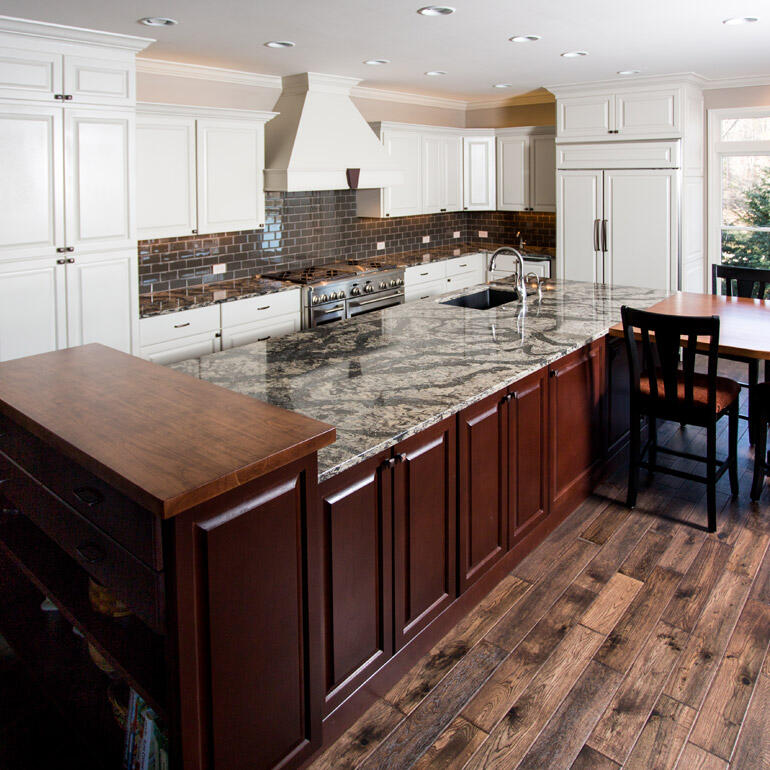 L-SHAPED
The most open layout, the L-shaped layout makes work zone design easier, offering many more options for optimizing your kitchen for all your family's activities. The L-shape is perfect for entertaining as it can accommodate not only multiple cooks but also mingling guests. Given the ample space, there's usually also room to add either an island, so that you can cook facing guests, or a traditional table and chairs, for dining and working. Plus, the table can do double duty as an additional prep or serving surface when needed.
Best for: Entertaining
Optimize With Work Surfaces
Depending on your chosen layout, consider increasing your work and storage space or adding extra seating by incorporating an island or a peninsula into your kitchen design.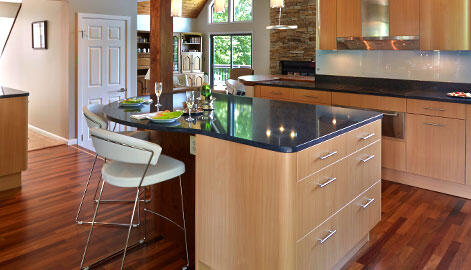 ISLAND
A freestanding island may be added to a variety of the common kitchen layouts to increase prep and counter space and storage as well as add seating on one side for guests or casual dining. The island's central location also provides a way of accommodating multiple cooks and allowing them to socialize.
Kitchen islands may be designed to serve a variety of purposes:
Working — A counter-height island creates a dedicated area for activities such as baking that require significant work space.
Cooking — The cooktop and/or a prep sink may be built directly in to an island to keep the cook in the center of the kitchen activity.
Seating — Extending the island top with a bar-style overhang or adding an additional bar-height tier plus stools provides an integrated area for both seating and dining.
Islands also offer additional kitchen storage as well a place to tuck away smaller appliances like microwaves and warming drawers.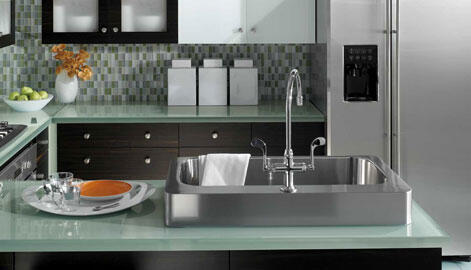 PENINSULA
Not freestanding, a peninsula is connected to the main structure of the kitchen on one side. Peninsulas function much like islands yet are often a better solution for smaller spaces. Like islands, peninsulas also add work space, storage and seating, and they too can be designed to accommodate prep sinks and small appliances such as beverage refrigerators to maximize kitchen design efficiency. Plus, a peninsula can be used to help define zones in the layout, such as between the cooking and socializing areas in a more open space.
Love Your Kitchen Design
Taking the time to choose the best kitchen layout and optimize it for your family's unique needs will ensure it will remain the most popular room in the house for years to come.